Why the Shelf Life Matters
When applying Kinesio® Tape there are steps practitioners use to achieve successful patient outcomes. The best way to learn and master the Kinesio Taping Method is through our education.
But what do you look for when you've done all the recommended steps and continue having problems with a decrease in quality. As medical professionals, you sometimes don't know that the small print on the packing contains an expiration date. Kinesio Tape® has a shelf life of three (3) years. It is important to clearly identify the expiration date on each roll of tape to ensure the best possible outcomes are achieved. Kinesio Holding Corporation sells tape with a minimum of 12 months shelf life. Our trusted distributors understand our expiration dates and rotate inventory to ensure a quality product is shipped to you every time.
HOW TO FIND THE EXPIRATION DATE: Depending on the type of Kinesio Tape you use, the format for the expiration dates may vary. FP is our most popular product and here is what the packing looks like. This basic information can be the difference between a successful taping application and one that does not yield the desirable results. When a price looks too good to be true, look at the expiration dates.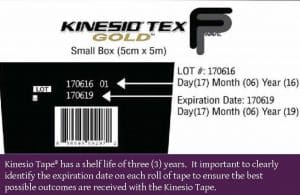 We hear a lot about cheaper prices on Amazon, Walmart.com and other 3PL platforms. Often times we find that Kinesio product that are close to or have expired on "dumped" onto these platforms as a final attempt to sell. If you would like to learn more, contact me for a list of our trusted Distributors and a copy of our Best Practices / Expiration Dates