Kinesio Taping Association International Presents:
32nd Kinesio Medical Taping Research Symposium in Tokyo, Japan.
October 14-15, 2023
Reserve Your Spot Now, Space is Limited for This Symposium!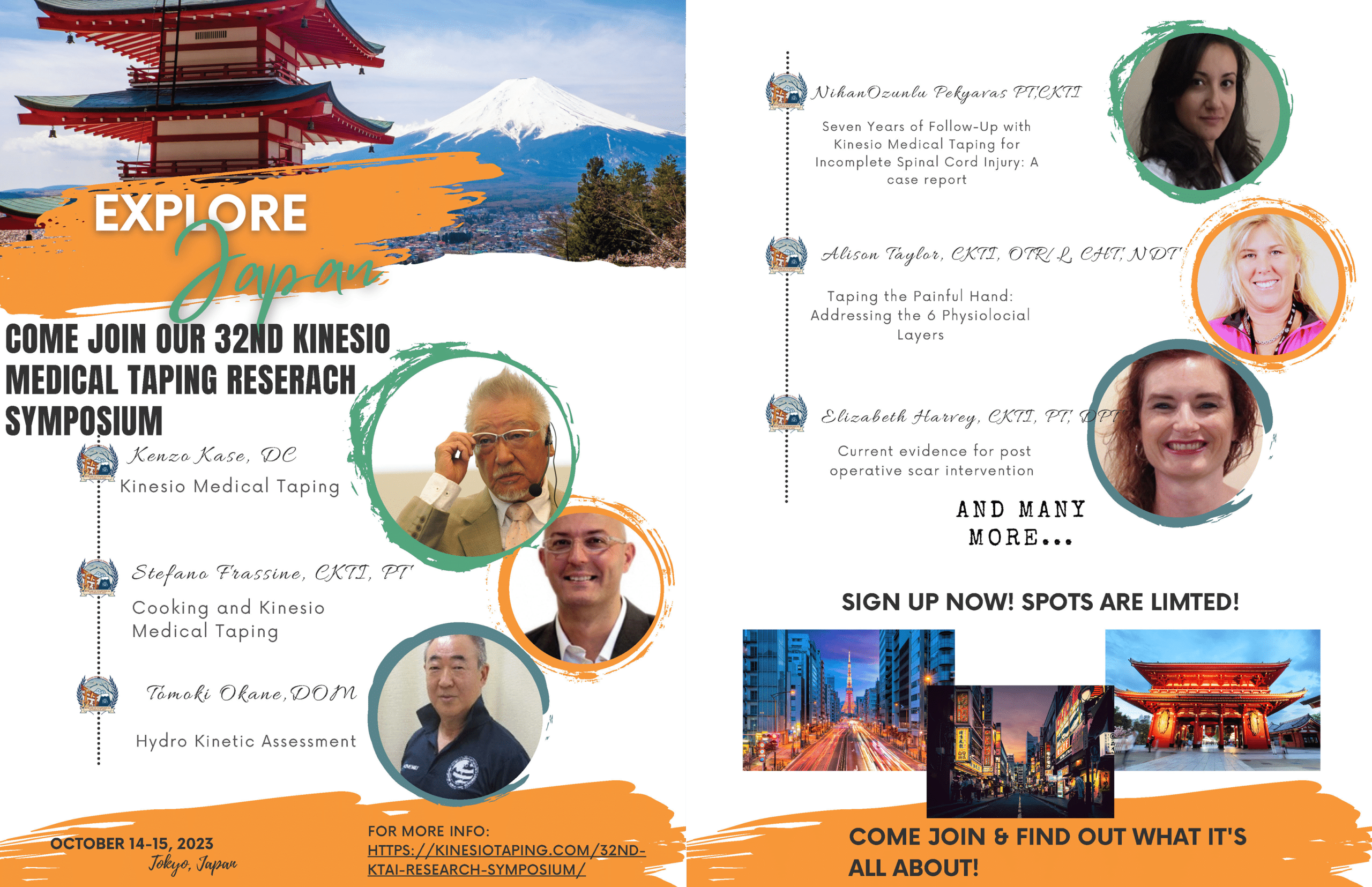 Day one will be packed with enthralling and inspiring speakers from all over the world. The focus of day one will be around Kinesio Medical Taping (KMT™). Learn the difference between Kinesio Medical Taping and Kinesio Taping Method (KTM). Learn Dr. Kase Therapy (DKT) treatment straight from the source – Dr. Kase. Learn how our keynote speaker, Dr. Deanna Mercer, an orthopedic surgeon, uses EDF® taping to improve post-op recovery. Learn about the cutting-edge research our Kinesio practitioners are doing at the poster session. End the day with a fun dinner.
Day two will be full of a variety of workshops, so you can have hands-on experience of the techniques you learned on day one. Examples of workshops include advanced techniques of KMT, equine and canine taping, pediatric taping, and DKT treatment.
This symposium will be like no other conference you've been to. You don't want to miss it!
There will be an optional tour of Tokyo that will take place on October 16th. This will be an all-day event. Please stay tuned for more information.
Registration Prices:
Early Bird Pricing: (Expires June 01, 2023)
$450.00 for the Symposium ONLY
$500.00 for Symposium and Tour
$100.00 for Japan Tour ONLY
Pricing After June 01, 2023
$525.00 for the Symposium ONLY
$575.00 for Symposium and Tour
$175.00 for Japan Tour ONLY
Location:
L Stay & Grow Minami Sunamachi (7-10-14 Minamisuna, Kotot Ward, Tokyo, Japan)
If you are a distributor and want to participate, please contact Danielle Sanchez at dsanchez@kinesiotaping.com
Cancellation Policy: Can receive a full refund minus a $25.00 processing fee up to August 1st. After August 1st through August 31st you can receive up to a 50% refund. No refunds will be accepted after August 31st.
To register fill out form below.
If you are attending, you will be responsible for securing your own room and board.
CLICK HERE for a list of near by hotels.