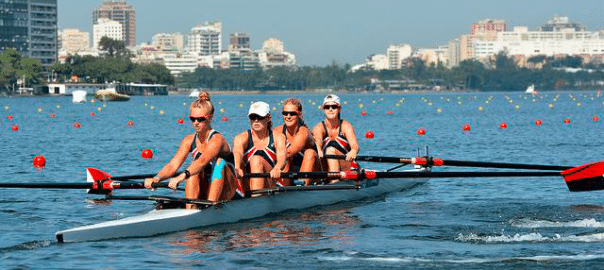 PRINCETON, N.J. – Kinesio® Holding Corporation (KHC) is proud to announce that we are now part of the USRowing sponsor community.  The Kinesio Taping® Method, developed by Dr. Kenzo Kase, is designed to facilitate the body's natural healing process while allowing support and stability to muscles and joints without restricting the body's range of motion.
Kinesio® tape will be made available to USRowing Training Center athletes as they prepare for the 2016 Olympic Games in Rio.
"Kinesio® tape has been helping USRowing athletes since the 2005 World Rowing Championships in Gifu, Japan," said USRowing Team Physician Marc Nowak. "It is a staple of treatment for the management of acute to chronic musculoskeletal injuries and no rowing athletic training bag is complete without it."
"Kinesio® tape is a rare product that consistently lives up to its claims and is limitless in its applications and uses. It will be a valued partner to the USRowing medical team in keeping our athletes performing at their best as we approach and participate in the 2016 Olympic Games."
"Kinesio® is proud to support the members of the USRowing National Team to help them prepare for Olympic competition," said Jeff Baskett, PR Development Manager for Kinesio®. "Rowing uses every large muscle group in the body and the benefits from the Kinesio Taping® Method will help keep these muscles in homeostasis by supporting muscle movement while maintaining full range of motion."

About Kinesio® Holding Corporation
For more than 35 years, Kinesio® has been breaking ground in the fields of sports performance and certified health care specialists. Kinesio® is the original and most trusted tape of choice for the world's elite athletes and the brand is firmly established as the global leader in elastic, therapeutic taping.  The Kinesio Taping® Method is more than just slapping on a piece of tape.  Knowing how and why to apply the tape is instrumental in an application's success, and this is highlighted in the globally recognized education and certification program.  Today, Kinesio University™ approved seminars and courses are offered in more than fifty countries across the globe.
About USRowing
USRowing is a nonprofit organization recognized by the United States Olympic Committee as the governing body for the sport of rowing in the United States. USRowing has 85,000 individual members and 1,300 member organizations, offering rowing programs for all. USRowing receives generous support from the National Rowing Foundation and its corporate sponsors and partners.
For more information, contact: USRowing Communications, (609) 751-0710, media@usrowing.org.
For more information, contact: Jeff Baskett, (888) 320-8273, jbaskett@kinesiotaping.com.